"Treasures are in the front. You kick open the door in the rear." ~ Steve Jackson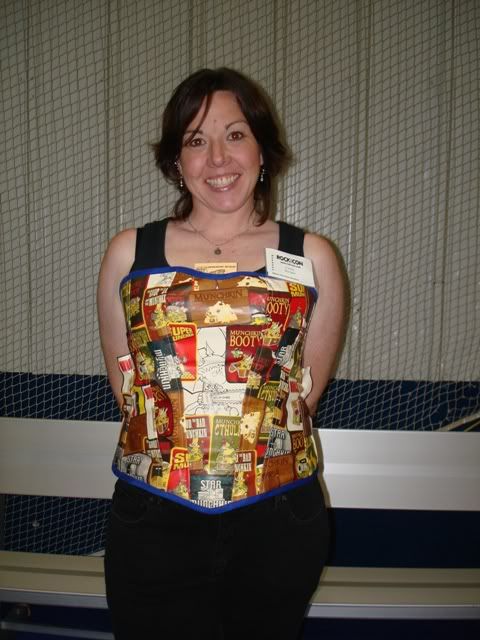 Yes, it really
is
made out of paper. The bookmark sticking out of the top is the written permission/authorization from
muskrat_john
and Steve Jackson (owner/founder/etc of
sjgames
) allowing me to make this. Before you ask - I had permission to make only
one
of these. Unless they give me written authorization again, I will not make another.
And laces up like a good corset should. Yes, it could be laced tighter, but I didn't want to find out where/when the corset would actually tear. (Because that would really suck.)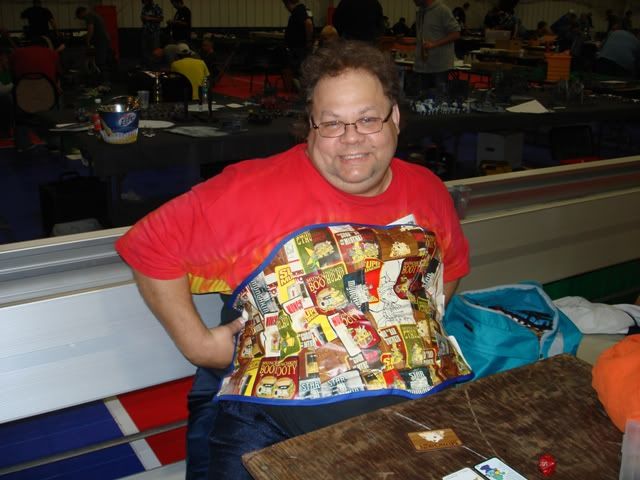 "Igor" and the Munchkin Corset. If you read/follow
DorkTower comic
, you'll know who Igor is. We love Igor.
Side Notes/Answering Questions:
- Wearing this thing, it wears like some sort of armor plating - or, Munchkin Plating - if you prefer.
- Yes, it's very comfortable to wear.
- If I get to do it all over again, I'll redesign the boob area. I really did not like how that turned out.
- I have no clue what I'm going to do with it, now that it's been made.
- No Munchkin game cards were ruined, abused, mistreated and/or mis-used in the making of this corset.
- There are no
Munchkin Fu
cards in/on this corset. Why? 2 reasons: a. I don't currently own any; b.
muskrat_john
didn't do the artwork on that set.
- There are no
Munchkin Blender
cards in/on this corset. Why? It's not a 'core' set.
- Yes,
muskrat_john
autographed it later in the day. No, not while I was wearing it.
Any comments/questions?
---
| | |
| --- | --- |
| | I'm chipper |